&nbsp&nbsp&nbsp As with any fad, the same thing comes to mind.... "IS THIS FAD OVER YET?"... i know most of you are with me on this... i'll give you some examples:

The Macarena
Boom Boxes
Car window Garfields
Afros
Ska
"New" Swing Dancing, ie. Zoot Suit Riot
Gettin Jiggy
Pauly Shore
"NOT!"
"Talk to the hand!"
"Yo Mama"
"Psyche!"
"The Bomb"


&nbsp&nbsp&nbsp Just to name a few... I got curious so i looked up the proper term for this:"Wapanese","Ricer", and also be sure to check out www.anti-rice.com...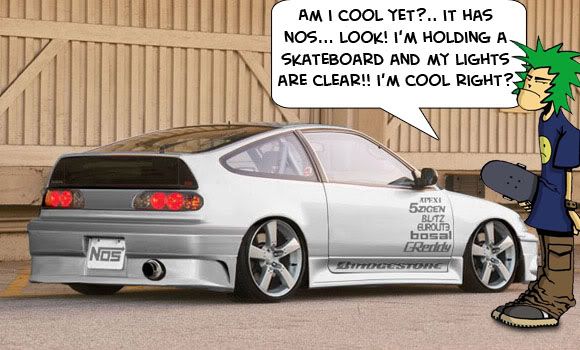 - Wang "Cornelius" Chung
&nbsp Kung Fu Instructor, Sachz Inc.
&nbsp